DR DAVID LINKS IS AN UPPER GASTROINTESTINAL AND BARIATRIC SURGEON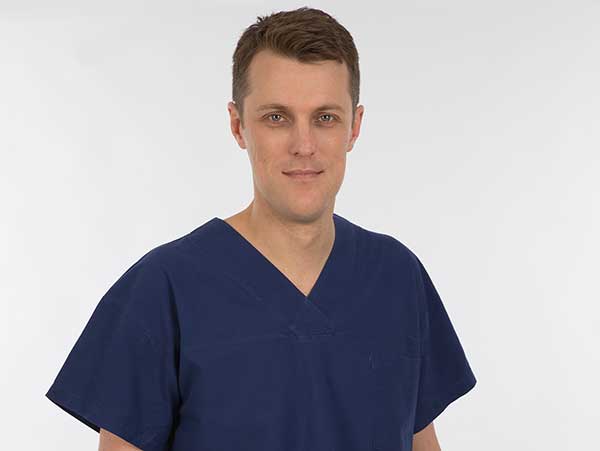 Dr David Links is an Upper Gastrointestinal and Bariatric surgeon with a minimally invasive surgical interest. His areas of expertise include:
Surgery for reflux (fundoplication) and hiatus hernia
Oesophageal and stomach diseases
Pancreatic disease
Gallbladder disease
Weight loss and metabolic surgery
Abdominal wall hernia
Minimally invasive surgery
He is a Visiting Medical Officer at Prince of Wales Public and Private Hospitals. Dr Links is a Locum Visiting Medical Officer at the Wagga Wagga Rural Referral Hospital and enjoys returning to his hometown to contribute to the Acute Surgical Unit roster several weeks a year.
Dr Links strives to build a trusted relationship with patients, to provide an excellent standard of care and to work with patients to enable them to make a successful recovery from surgery.
Training
Dr Links was awarded his medical degree with Honours from the University of NSW in 2002. After his initial intern and residency years at Royal North Shore Hospital he undertook general surgical training from 2007 to 2011 at Prince of Wales and Bankstown Hospitals. Dr Links was awarded his Fellowship in General Surgery of the Royal Australasian College of Surgeons in 2012.
He undertook further subspecialty training, completing a three year accredited Australian and New Zealand Gastric and Oesophageal Surgery Association (ANZGOSA) fellowship. This included experience in minimally invasive foregut surgery and bariatric surgery at Concord Hospital in Sydney.  He gained extensive experience in surgery for benign and malignant disease (cancer) of the oesophagus, stomach and pancreas at Prince of Wales Hospital, Sydney. He then spent one year at Newcastle-upon-Tyne, UK, working as a Senior Clinical Fellow at the Northern Oesophagogastric Cancer Unit, one of the busiest units in Europe with a high case volume, specialising in surgical and endoscopic management of oesophageal and gastric cancer.
Quality and Teaching
To ensure high standards of surgical care Dr Links participates in local and nationwide Quality projects including the Bariatric Surgery Registry and NSW CHASM. He is the Coordinator for the monthly Clinical Audit and Journal Club meetings of the Department of General Surgery, Prince of Wales Hospital. He contributes as a submitted article reviewer for the ANZ Journal of Surgery in the Upper GI Section.
Dr Links is active in education of both undergraduate and postgraduate students and doctors. He was the Upper GI Convener for the 2018 RACS Annual Scientific Conference. Dr Links is the Upper GI Term Supervisor for Junior Doctors at POW Hospital and is the Hospital Supervisor for the Royal Australasian College of Surgeons NSW/ACT Fellowship Examination Preparation Course.
In 2013 Dr Links was awarded a Master of Surgery (MS) from the University of Sydney, writing his dissertation on 'Benchmarks in quality of care in pancreatic cancer surgery'.